Furious 7 – Movie Review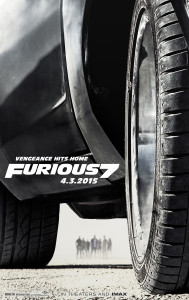 Furious 7 – PG-13
Release Date: Fri 03 Apr 2015
Furious 7 is the delayed seventh entry in the Fast and the Furious series due to the mid-production death of co-star Paul Walker. Originally due in summer 2014, the movie had to be revised and a combination of digital tricks and body doubles used to put Walker's character, Brian back on the screen.
Unfortunately, Furious 7 forgot to be much fun. It's a bloated 137-minute action movie that, regardless of whether the location is Abu Dhabi or Las Angeles and regardless of whether the cars are dropping out of a plane or swapping passengers through windows it all ends up feeling the same. The fatigue of seeing the same editing and outrageously loud soundtrack wears out long before we get to the final sequence and completely unsatisfying conclusion.
Then there's a Return of the King style series of epilogues that feel as though they could not decide on the best way to send off Paul Walker, so they just put them all into it.
The main problem I had with the prior movie was the lack of stakes. No major characters die, and we never have a sense of danger. That works if the action sequences have some humor in them, but Furious 7 has a somber, gritty action tone with an occasional groan-inducing one-liner. Sidelining Dwayne Johnson for most of the running time doesn't help matters either, as he has proven to be able to make even ridiculous material amusing. Vin Diesel – not so much.
If you're a series die hard or a big Paul Walker fan, you're likely not going to be put off by the movie's flaws. Anyone looking to jump in here for a fun action movie is in for a long, loud, unpleasant surprise.
Zak, Aaron, Cal and I saw it in the theater and had a discussion in the car: