The Longest Ride – Movie Review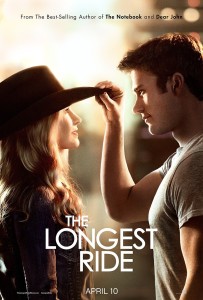 The Longest Ride – PG-13
Release Date: Fri 10 Apr 2015
The Longest Ride is a romantic drama adapted from Nicholas Sparks' novel. The story is about Sophia (Britt Robertson) and Luke (Scott Eastwood) who begin to question their decision not to pursue a relationship after saving an older man (Alan Alda) who tells them about his life and his own story with his wife Ruth (Oona Chaplin).
Sophia is graduating from college and getting ready to move to New York for a promising internship with a Manhattan art gallery. Luke is a professional bull rider with local roots including a ranch that he and his widowed mother are responsible for. Despite an attraction, the two agree that their lives are taking them in opposing directions and will not pursue a relationship. However, on the ride back from that conversation, they come across a car that has run off the road after Ira (Alda) had a heart attack behind the wheel.
Ira asks Sophia to save a box of letters from the wrecked car, and later in his hospital room admits he can no longer see well enough to read them. (What on earth was he doing behind the wheel?) Sophia begins reading the letters to him and from there the movie follows two stories in parallel. The older couple's story, set during and after World War II informs the decisions Sophia makes about sacrificing her dreams for love. Luke is not so easily swayed… at first.
The Longest Ride manages to tell two fairly simple (if sappy and predictable) romance stories at once. This helps justify an otherwise unbearable 137-minute running time. (Seriously?) The movie is adeptly acted and shot, and the period story line is the more interesting of the two. This is because the main characters are so basic and predictable. Rather than learning for themselves, they try to apply Ira and Ruth's life lessons to their own, very different situation. The ending is extremely corny (and predictable) and essentially makes it seem as if the only decision of any consequence they ever made or will make in their entire lives was to do what Ira wanted.
As someone who is not generally a fan of this genre, I can say that for what it is it's pretty harmless and I was surprised that it kept my attention as long as it did. Either story by itself would have been very weak, but the two together worked better for it. If you like a good brainless romance story, you can certainly do worse than The Longest Ride.
Amber, Aaron and I saw it in the theater and had a discussion in the car: