Swiss Army Man – Movie Review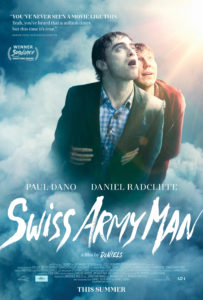 Swiss Army Man – R
Release Date: Fri 01 Jul 2016
It is not long into Swiss Army Man that Hank (Paul Dano) is riding Manny (Daniel Radcliffe) like a human jet-ski with flatulence as the propellant. It puts it's flag into the ground early: If this scene doesn't make you laugh or makes you want to walk out of the theater, this probably isn't a movie for you.
Thankfully, Swiss Army Man is a very accessible film despite it's very strange premise. Manny is a corpse with special powers in a literal sense. What he is in a metaphorical sense is a device to pair with Hank to hang the film's philosophy upon. Hank teaches the audience about his worldview and experience by teaching Manny, who can communicate but has no memory prior to Hank finding him, washed up on a lonely island.
The soundtrack is also beautifully molded out of Hank's head with a score made out of layers and layers of Paul Dano's voice singing, breathing and humming. It's a marvelous film that will never not be strange, but is also not so strange as to be obtuse or inaccessible. The performances, humor and surprisingly positive overall tone make this well worth seeing.
Matthew, Cal and I saw it in the theater and had a discussion in the car: