Danny Collins – Movie Review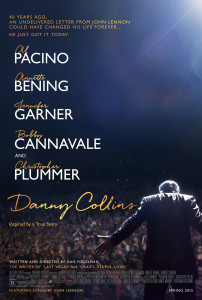 Danny Collins – R
Release Date: Thu 19 Mar 2015
Al Pacino plays Danny Collins, an aging rock star who finds that a letter was hand written to him in 1971 by John Lennon; A letter he did not receive until more than forty years later. In the letter, Lennon responds to an article where Danny was interviewed and said that he feared that money would change him and change his songs. Lennon said it didn't have to and provided his phone number as a means of continuing the discussion. Danny realizes that he has become everything he feared, a vapid rock star coasting on ancient songs that don't have the same truth that made the interviewer compare him to John Lennon in the first place.
Danny interrupts his lucrative tour to set his life right. He moves into a Hilton in New Jersey to try and connect with a grown son (Bobby Cannavale) and meets his wife (Jennifer Garner) and their daughter Hope. He also begins a friendly relationship with the hotel manager (Annette Benning) where he doggedly tries to convince her to go to dinner with him.
The "lost letter" part of the story is true – a post credits sequence introduces us to the real recipient of the letter John Lennon wrote that he didn't see for many decades. Lennon's music is also used exclusively as the movie's soundtrack apart from original music performed by the Danny Collins character. His big hit seems to be channeling Neil Diamond with more than a passing resemblance to his music.
The movie rests comfortably on Pacino's central performance. Danny is frequently called ridiculous, but more often than not it is what he is wearing versus how he is acting. Pacino gives Danny a sweet heart behind a thin veneer of charisma and swagger. He could have easily made this an over the top role, but Danny is much more relatable for being so human. The other characters are also well cast and well played. I will say nothing about the final scene other than I really appreciated it as the end of the movie.
For those concerned about the R-rating, it's there for a handful of f-bombs and an early scene showing a woman nude in a shower. It's unlikely to offend many moviegoers, but it does manage to warrant the R. I recommend it as a fun movie that will likely be enjoyed by both younger and older adults even though it seems aimed at an older audience.
Aaron and I saw it in the theater and had a discussion in the car: