Entourage (2015) – Movie Review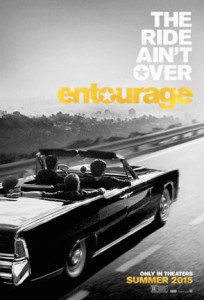 Entourage – R
Release Date: Wed 03 Jun 2015
Entourage tells a self-contained story that takes place after the events of the HBO show. Ari (Jeremy Piven) has been made a studio boss and wants to hire Vince (Adrian Grenier) to act in a big-budget adaptation of Dr. Jekyll and Mr. Hyde. Vince agrees on the condition that he can direct. Things spiral out of control from there (as usual) as Vince and producer Eric (Kevin Connolly) spend too much on the film and still need more to fix it, Vince casts his brother Johnny (Matt Dillon) in a small but pivotal role, and an oil tycoon (Billy Bob Thornton) and his son (Haley Joel Osment) threaten to pull their funding unless they can see the unfinished film and sign off on it.
The movie is much like the show, but has more forward momentum as it tries to provide story arcs for all of the returning cast. In this way it simultaneously feels like an extra-long episode with enough plot to fill a season. This pacing really helps the movie as any particular character or plotline never really outshines the other and we get to spend a good amount with each of the main characters. It is also chock full of cameos, and most of them are worked in well by simply implying that the main characters all know everyone in Hollywood. This is especially true of Ari, who we see in a constant state of bumping into people that are furious with him from Liam Neeson to Jessica Alba.
Fans of the show will enjoy the extra time they can spend with the characters, and newcomers will likely enjoy it too as the story is more streamlined and interesting than the average episode. Where the show could slow down and meander here and there, the movie always seems to be moving forward.
I enjoyed Entourage more than the show and would recommend it to fans of the show and people who enjoy R-rated comedies. In addition to language, the R rating comes with a great deal of nudity, particularly early on. If that sounds like a good time to you, you're likely to enjoy this one.
Aaron and I saw it in the theater and had a discussion in the car: