Woman In Gold – Movie Review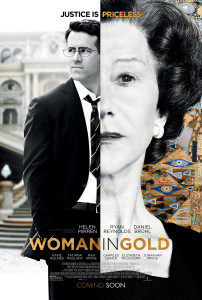 Woman in Gold – PG-13
Release Date: Wed 01 Apr 2015
Woman in Gold is a dramatization of the story of Maria Altmann's (Helen Mirren) attempts to reclaim artworks from the government of Austria that were stolen from her family by the Nazis during World War II. The movie begins as Austria opens a program allowing people to submit cases to the government for restitution. She enlists the son of a friend, a young lawyer named Randol Shoenberg (Ryan Reynolds) to help her present her case.
The movie is told in two timelines, a "present" timeline with Mirren and Reynolds and a "flashback" timeline that takes place in Vienna during Maria's childhood and young adulthood as an Austrian Jew before she fled to America to escape persecution. Tatiana Maslany plays Maria in the latter era of the flashbacks during Maria's wedding, house arrest and flight from the country.
The flashbacks do little to improve the story, they are merely there to dramatize scenes rather than have the older Maria constantly telling stories. Strangely, the flashbacks are almost always the private thoughts of Maria rather than something directly impacting to the present plot. These scenes are neither narrated nor recounted to Randol or any other characters. They come across as distracting at some points, and at others a clashing level of tension before bringing us back to a seemingly endless series of court appearances. A few attempts at a Philomena-esque comic pairing between Maria and Randol fall completely flat.
Maria will also suddenly give up, leaving Randol to carry on without her with little explanation in the story. There's no real suspense in either timeline. Even if you don't look up the outcome of the real life story, the end result is predictable and every step of the way is bone-dry. We know for sure that Maria survives the Nazis, but the flashbacks seemed focused on her personal stakes.
This adds up to a zero-sum movie that imparts about as much information as a Wikipedia page without any flair to make it entertaining. The story could easily be told in a thirty minute documentary that would have been just as informative and interesting as the 109-minutes of this version. I don't recommend Woman in Gold as necessary viewing, but it's also not at all terrible. Just don't be surprised if you find yourself bored of the subject before the inevitable climax.
Aaron and I saw it in the theater and had a discussion in the car: