While We're Young – Movie Review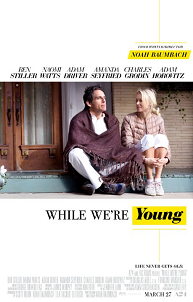 While We're Young – R
Release Date: Fri 27 Mar 2015
Josh (Ben Stiller) and Cornelia (Naomi Watts) are a married couple living in New York. Josh has been working for ten years on a documentary that he is unable to explain, let alone finish. Cornelia is having trouble that the last of her close friends, Marina (Maria Dizzia), has had a baby and is pressuring Cornelia and Josh to start a family as well. Josh meets a younger documentary filmmaker named Jamie (Adam Driver) and his wife Darby (Amanda Seyfried.) After initially feeling excited about being a mentor for Jamie, Josh starts to feel jealous and begins to find that Jamie is manipulating the events in his films as well as the people around him.
While We're Young's trailers focus on the comedic aspects of the film. For example, Cornelia attempts to join Darby at a hip hop dance class and dances poorly. Josh starts wearing a hat because that's what Jamie does. It feels like the movie is going to have more of these fish out of water jokes as well as commenting on both generations. Instead, in focuses squarely on Josh's crisis of not living up to (ultimately) his own expectations for himself. He isn't successful by his own standards and though he tries to play this off it bothers him deeply.
The movie itself feels like the result of an overambitious script that was later cut down to try and adjust the focus. Cornelia, Jamie and Darby all feel like loose ends that never get addressed. By the time it becomes clear that the movie isn't interested in them we're left with Josh exposing how self-centered and flawed he is. He doesn't really do anything but make this realization and discuss it a bit with Cornelia.
I found While We're Young to be deeply disappointing. There's a great cast here and the expectation that all four characters in the older and younger couples are going to have arcs seems like a wasted opportunity. It's hard to empathize with Josh – his problems are of his own creation and he seems to be financially free to live in New York and do whatever strikes his fancy. For the most part, this involves lying to himself about his own progress. I am sure there are people that can relate to Josh, I'm just not one of them.
Hannah and I saw it in the theater and had a discussion in the car: