The Water Diviner – Movie Review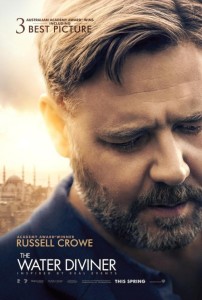 The Water Diviner – R
Release Date: Thu 25 Dec 2014
Russell Crowe directs and stars in this film about a man trying to find the bodies of his sons who were slain in a World War I battle in Turkey. His journey takes him from his home in Australia to Istanbul and out into the war-torn countryside where the occupying British forces are attempting to locate and bury all of their dead, a first in modern war.
The film is gorgeously shot from the opening scenes in Australia, the beauty and urban buzz of Istanbul, and the coastlines that belie the horrors of the site where thousands of British and tens of thousands of Turkish soldiers died in battle.
The movie's greatest asset is it's writing. It walks an impressive tightrope balancing the tragedies of war that regularly wash over the story with solemnity with the lighter, more hopeful scenes of Connor (Crowe) befriending the proprietors of an Istanbul hotel and a Turkish officer who was part of the leadership against his sons on the battlefield.
As I avoid spoilers in the written reviews (watch the discussion video below for more details) it's hard to detail all of the elements of this movie that surprised and impressed me. A running theme of a story from Arabian Nights and a story about love and coffee have fantastic payoffs.
This is an exceptionally good movie not to be missed. While it is rated R and depicts war, it tends to err on the side of being less gory than it could be. It's always the revelation of what happened, not the barbarism of how it happened that the movie focuses on. I highly, highly recommend seeing it – and on a big screen if possible.
Amber, Cal, Aaron and I saw it in the theater and had a discussion in the car: