Insidious: Chapter 3 – Movie Review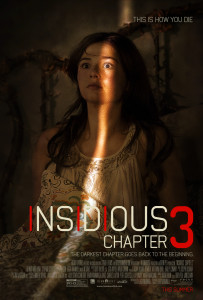 Insidious: Chapter 3 – PG-13
Release Date: Fri 05 Jun 2015
Insidious: Chapter 3 is a prequel that takes place a few years before the events of the first Insidious title. Lin Shaye returns as Elise, the psychic from the other two chapters and the story gives us more information about how she learned about The Further and the evil that lurks there. It is also about a teenage girl named Quinn who lost her mother and is struggling to transition from high school to college. Her dad is overwhelmed raising her and her younger brother. But Quinn's attempts to call out to her mother have inadvertently attracted the attention of a demon who is trying to collect her soul into the demon world.
With chapters one and two being essentially two halves of one story, chapter three gives us a lot of time getting to know Elise and how she came to be the psychic/demon hunter that she is by chapter one. Lin Shaye's performance is outstanding as always as she generates empathy, humor and gravity. After her husband commits suicide, Elise vows not to used her "gifts" again and shuts herself off from the world. Quinn seeks her out, and Elise finds out enough to know that Quinn is in trouble but that Elise does not feel strong enough to save her.
That allows us to spend more time getting to know Quinn's family and experience the (mostly) different set of hauntings than chapter one. Chapter three is more of a haunted house style of movie that takes place in an apartment building that, in The Further is host to many unhappy spirits.
While you could certainly watch the movies in chronological order (3, 1 2) or see this movie and have it stand on its own, I found it to be a nice change of pace for the series. The movie has excellent character development and tension and most of the scares here are earned even if they turn out to be jump scares. I left the theater with the distinct impression that this prequel was necessary to set up for a future chapter that brings back more of Elise's history or includes some of the cast introduced in it.
Chapter 3, like Chapter 2 were not as good as the original, but they are still worthwhile, well executed horror movies. This is a great PG-13 horror movie in a sea of mediocre and pointless ones. If you're a fan of the genre or the other installments I recommend checking it out.
Aaron and I saw it in the theater and had a discussion in the car: