Spy – Movie Review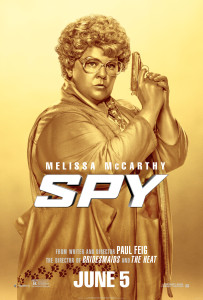 Spy – R
Release Date: Fri 05 Jun 2015
Melissa McCarthy plays Susan Cooper, a CIA agent who has been desk-bound for the past ten years helping an agent she has a crush on named Bradley Fine (Jude Law.) When the team's target Rayna Boyanov (Rose Byrne) announces that she knows the names of all their top agents (including Law and Jason Statham's characters) it's up to Susan to go undercover and find out what Rayna is up to.
Spy deftly merges comedy, action and espionage and manages to make all of it funny. Writer and Director Paul Feig makes his third film with Melissa McCarthy after Bridesmaids and The Heat and creates an ensemble that are all genuinely fun to be around. Yes, McCarthy is certainly the star, but she is not given all of the jokes and character development. Rose Byrne's Rayna is stuck up and hilariously rude. Miranda Hart is great as Nancy, Susan's friend at the agency who is similarly "stuck in the basement. Jude Law and Jason Statham are excellent as the agents cut out of the action by Rayna knowing their faces. Statham is used perfectly, stealing every scene he is in but isn't overused. Whenever you see him enter a scene the anticipation builds to whatever insanity he's going to go for next.
While I am not one for putting spoilers in my written reviews, I would recommend Spy to anyone with the caveat that it is a lot more violent than you expect. Much of it is done for comedic effect (and by McCarthy's character) but there are some cringe inducing moments and it's easy to see that this movie would have been rated R for violence alone, let alone prevalent use of profanity and some quick nudity. The audience around me seemed to be okay with it, but if you can't bear graphic violence it may be too much for you.
I did not expect the movie to be very good, and was pleasantly surprised by how engaging and funny it was – and that it didn't lean the entire movie on Melissa McCarthy shoulders, but used it's great cast to make the movie that much better.
Aaron and I saw it in the theater and had a discussion in the car: