The Gallows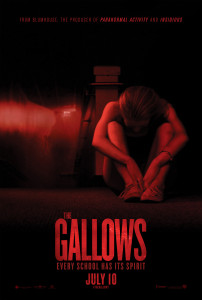 The Gallows – R
Release Date: Fri 10 Jul 2015
The Gallows is a found footage horror movie complete with the jump scares found throughout the genre. The plot revolves around four high school students who break into school in the middle of the night. Things start to go wrong as they learn more about a boy who died during a school play twenty years earlier when he was accidentally hung by what was supposed to be stage gallows.
There's not much to recommend here. The acting is good, but the characters are underwritten and underdeveloped. The character we get to know the most is an unlikable douche that we're rooting against. The story has a Scooby Doo style red herring and a twist at the end, but it mostly serves to wrap things up quickly. It's surprising too that this movie got an R-rating as the genre is usually PG-13 and there was nothing here that couldn't have been done with that rating. I suppose if anything it left room for where things could go.
There are far worse movies in the found footage genre, so if that's a favorite of yours you might enjoy The Gallows. I'd just as soon hang somewhere else.
Amber, Aaron and I saw it in the theater and had a discussion in the car: