Trainwreck – Movie Review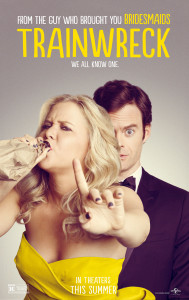 Trainwreck – R
Release Date: Fri 17 Jul 2015
Amy Schumer wrote and stars in this R-rated, Judd Apatow-directed comedy. Her character (also named Amy) is a single woman in New York having emotionally vacant one-night stands in between seeing her hopelessly inept regular boyfriend, bodybuilder Steven (John Cena). When her boss (Tilda Swinton) assigns her to write about a sports doctor (Bill Hader,) Amy finds herself in a more normal adult relationship for the first time.
The writing and directing are excellent. Amy is certainly the focus of the story, but there are plenty of great moments with the entire cast. There's also an effective emotional core to the story that feels honest and may earn a few tears. The direction makes the most of the material, never lingering on a scene just to pack on a few extra jokes. The casting and performances are excellent. Audiences may feel like Bill Hader is underutilized, but this is all in service of moving things along and keeping characters grounded rather than making sure every character is as funny as possible.
Fans of R-rated comedies, Schumer and/or Apatow will certainly enjoy Trainwreck. My biggest concern going into it was that it would feel like a feature-length episode of Inside Amy Schumer. While the writing and subject matter are recognizably similar, Trainwreck is successful as a movie in it's own right. It's a very solid experience that I highly recommend.
Amber, Matthew, Aaron and I saw it in the theater and had a discussion in the car: