Straight Outta Compton – Movie Review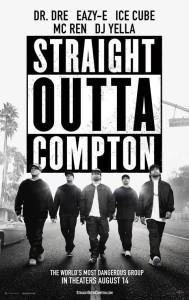 Straight Outta Compton – R
Release Date: Fri 14 Aug 2015
This biopic about the formation and aftermath of influential rap super group NWA. explores the social injustices that informed the group's music and later reflected in events like the LA riots. While the running time is long (147 minutes), there's no filler or slow spots. If anything, the rumored three-and-a-half hour cut would probably feel more satisfying. It's a testament to the great acting and direction that the story never feels like it would be better served as a documentary interviewing the different players.
The main cast is great with Ice Cube's son O'Shea Jackson Jr. playing his father, Corey Hawkins as Dr. Dre and Jason Mitchell as Eazy-E. Paul Giamatti is also very good as their manager Jerry Heller. The other, lesser-known members of NWA (MC Ren and DJ Yella) are mainly background characters and seem to only appear when needed on stage or in the studio. The story's focus is certainly on Eazy-E, Dr. Dre, Ice Cube and Heller with the later dangerous presence of Suge Knight and the infamous Death Row Records.
Fans of the band or any of its individual members will certainly enjoy the movie. It also provides a good amount of history from the late 80's and early 90's with the Rodney King police brutality trial and riots playing a large part. As expected for a movie about this band, there is plenty of profanity but the R-rating is much more for some scenes of nudity as NWA has several parties of debauchery including a very funny sequence that plays out during a hotel orgy. All of this underscores the eventual revelation of Eazy-E being HIV positive and never feels gratuitous, but I did notice some parents bringing kids under 13 into the movie that seemed surprised that it wasn't *just* profanity giving the movie it's R-rating.
If you get the chance, I would certainly watch Straight Outta Compton and hope that an extended director's cut will emerge.
Amber, Aaron, Cal and I saw it in the theater and had a discussion in the car: