Kirk Cameron's Saving Christmas: What Happened?!" Fri 12/11/2016 7:30PM
RSVP on Facebook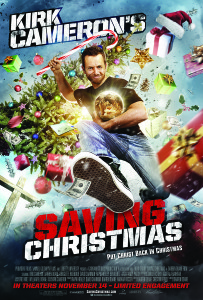 Saving Christmas: What Happened?! Movie Riffs
Friday 11 December 6:30PM Door, 7:30PM Show
@ Westport Flea Market – Buffalo Room
816 Westport Road, Kansas City, MO 64111
Released into theaters in 2014, Kirk Cameron's Saving Christmas sparked backlash when the film's star (Cameron) asked his Facebook followers to make a point of posting reviews on Rotten Tomatoes. Saving Christmas had a flat 0% critical rating and while there was a short-lived improvement in the user scores, the Internet demolished the film. This led to it being the lowest rated movie on IMDB by the end of its theatrical run.
Saving Christmas is an oddly paced and framed defense of commercial, American Christmas traditions and characters. Cameron defends everything from Santa to Christmas trees to expensive presents and feasting. It's the epitome of a so-bad-its-good movie experience and ripe for the What Happened?! treatment.
Comedian Dale Maxfield and his team of riffers present Saving Christmas: What Happened?! – live film riffs with comedic commentary and behind-the-scenes info. We'll look at the series of decisions that led to this disastrous movie, followed by a full riff of the movie by Dale's team, Cinemasochists! If you like Mystery Science Theater or the Benson Interruption, you'll love this!
Movie and riff rated PG-13
Upcoming Performances (Titles TBA):
Fri 1/15/2016
Fri 2/19/2016
Fri 3/18/2016