Dirty Grandpa – Movie Review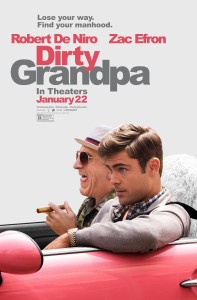 Dirty Grandpa – R
Release Date: Fri 22 Jan 2016
Robert De Niro and Zac Efron star in this R-rated comedy about a widower tricking his uptight grandson into driving to Daytona Beach for spring break.
Dick Kelly (De Niro) guilt trips his grandson Jason (Efron) into driving him to Boca Raton at the funeral for Dick's wife and Jason's grandmother. This ruse is really about Dick wanting to get laid after being faithful to his wife for forty years and celibate for the last fifteen. Jason is getting ready to marry his fiance Meredith (Julianne Hough) who is irredeemably superficial. They end up meeting Jason's former classmate Shadia (Zoey Deutch) who represents a more adventurous direction for his life and her friend Lenore (Aubrey Plaza) who instantly wants to sleep with grandpa.
The first act of the movie is really weak. Neither Efron or De Niro build particularly likable characters and the first act's humor is based on giving De Niro as many crude things to say as possible. Fortunately, once they make it to Florida, Aubrey Plaza and Jason Mantzoukas help inject more energy and humor into the movie.
It's seeming more and more that Zac Efron's role in Neighbors might be the best he can do in a comedy as he falls flat on his face here. De Niro never quite seems to be doing more than reading a list of lines that are supposed to be funny because he's Robert De Niro. The result is a better than average R-rated comedy that eventually got some laughs after a dreadful first act. I can't recommend paying full price to see it.
Amber, Aaron and I saw it in the theater and had a discussion in the car: