Pride and Prejudice and Zombies – Movie Review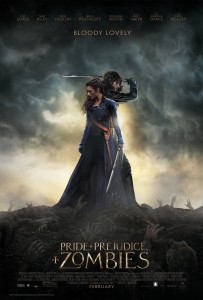 Pride and Prejudice and Zombies – PG-13
Release Date: Fri 05 Feb 2016
Pride and Prejudice and Zombies is an adaptation of the novel by Jane Austen and Seth Grahame-Smith, the latter's melding of the classic novel with a zombie apocalypse scenario. The book carefully kept Austen's writing style while ramping up elements of the zombie invasion including the Bennet sisters' training in the "deadly arts."
The movie version can't quite nail down the tone as it bears down on the action side and runs a mere 108 minutes. It's certainly the most rapid film version of Pride and Prejudice, but it misses the opportunity to be a lot more humorous than it is. Everything is deadly serious save Matt Smith's Parson Collins. It's attempts at horror amount to little more than cheap jump scares and loud booms.
If there's a silver lining it's in the performances. There are many gifted actors here, not least Lily James who does an admirable job as Elizabeth and Charles Dance as her father. Among the many alternative approaches to the material I considered while watching was one where the movie started out indistinguishable from a straight Pride and Prejudice adaptation; Slowly it dawns on you that one of the girls is sharpening knives rather than knitting. These things happen out of sequence, as though the producers didn't trust the audience to stay in their seats unless the ZOMBIES were front and center from the cold open.
A wasted opportunity from some hilarious source material.
Aaron, Cal and I saw it in the theater and had a discussion in the car: