The Boss – Movie Review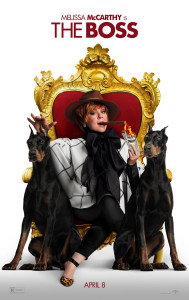 The Boss – R
Release Date: Fri 08 Apr 2016
Melissa McCarthy again teams with her writer/director husband Ben Falcone (they also made Tammy) in a new R-rated comedy called The Boss.
Michelle Darnell (McCarthy) is a wealthy CEO and ruthlessly mean to everyone around her, including her long-suffering assistant Claire (Kristen Bell.) After her assets are seized and she completes a jail term for insider trading, Michelle is left with nothing and ends up sleeping on Claire's couch. She concocts a new business plan based on girls selling Claire's secret recipe brownies and piques the interest of her ex-lover and nemesis Renault (Peter Dinklage.)
The Boss feels much more like a traditional scripted comedy than Tammy, which felt like edited improv. Michelle is a great character for McCarthy. She's fearless but not overconfident. She's casually mean, but when she wants to be threatening McCarthy's creative expletive-laden outbursts let loose. Falcone's direction is also improved, but there are still a lot of shots in that boring "don't distract the viewer from the funny person talking" shots that never take full advantage of the medium. The rest of the cast is fine. Bell has the second-most screen time and is mostly there to ground the movie as the 'straight man.' Peter Dinklage does his best to make the ridiculous Renault funny even when it's clear the script just says "and he laughs maniacally." Kathy Bates is in two scenes and feels fairly wasted, though not nearly so bad as Susan Sarandon was in Tammy.
McCarthy lovers will certainly enjoy The Boss. It's a step in the right direction for the husband and wife team and feels closer to McCarthy's work with Paul Feig while not quite reaching the heights of Spy.
Aaron and I saw it in the theater and had a discussion in the car: