Neighbors 2: Sorority Rising – Movie Review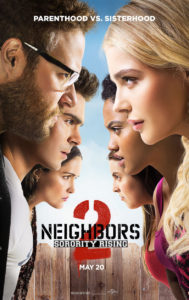 Neighbors 2: Sorority Rising – R
Release Date: Fri 20 May 2016
Seth Rogen, Zac Efron and Rose Byrne return for Neighbors 2: Sorority Rising. In the new movie, a group of college freshmen girls led by Shelby (Chloë Grace Moretz) start a sorority next door to the Radners (Rogen and Byrne) who must now try to hide it from the buyers while their house is in escrow.
Neighbors was a surprisingly funny and well-written movie dealing with themes of aging and friendship with a lot of hilarious sequences as the two houses warred with one another. Neighbors 2 drops the ball on both fronts, managing to be less of an exploration of any of the themes and built mostly around gender-swapped reversals of scenes from the original. The new characters take the brunt of this with the three main friends starting the sorority feeling like bare-bones sketches rather than people with personalities. The plot doesn't seem to know what to do to keep Efron's Teddy Sanders central to justify second billing.
While not a terrible comedy, Neighbors 2 has a hard time justifying its story and existence. It's worth a rental. If you've not seen the original, it's well worth watching.
Amber, Aaron and I saw it in the theater and had a discussion in the car: