The Nice Guys – Movie Review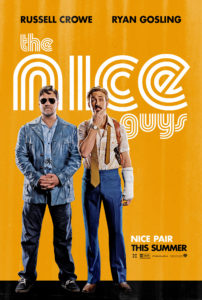 The Nice Guys – R
Release Date: Fri 20 May 2016
Shane Black directs (and co-wrote) this action/comedy/crime movie about a private investigator named March (Ryan Gosling) and an enforcer named Healy (Russell Crowe) who team up to hunt down a missing girl.
The Nice Guys takes its time settling into its 1977 Los Angeles location and builds up a lot of exposition over the first half hour. This isn't a movie with wall-to-wall comedy, but once it gets going it is a lot of fun. Gosling and Crowe are a good odd couple, and March's daughter Holly (Angourie Rice) is a funny addition who is mostly more helpful than her father. Neither the violence or nudity is gratuitous here, but it also certainly would not have worked as a PG-13.
Once it gets going, The Nice guys feels more like a lost Elmore Leonard story than Lethal Weapon. Gosling's performance in particular – sometimes an expression alone – kept me laughing throughout. It's a movie I can see myself returning to and introducing to others.
Amber, Cal, Aaron and I saw it in the theater and had a discussion in the car: