Ghost In The Shell (2017) – Movie Review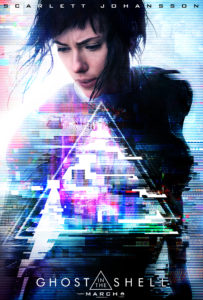 Ghost In The Shell (2017) – PG-13
Release Date: Fri 31 Mar 2017
Scarlett Johansson stars as Major in this live-action remake of the 1995 animated film of the same name. In the near future, Major is the first successful brain transplant from a car crash victim into a fully cybernetic body. Major's brain is human, but her memories are vague. Her body is designed as a weapon with cloaking technology and a whole lot of action hero baked in.
As in the original, the mystery of who Major was before her brain transplant drives the main plot of the movie, with Major working for a paramilitary organization tracking down a dangerous hacker (Michael Pitt.)
Ghost In The Shell is about as faithful as live action remakes get, while subtly improving on certain aspects of the story. The art direction and CGI are breathtaking, and the world comes alive brilliantly right from the opening sequence; Major is being built to a pumping sci-fi synth soundtrack straight out of the Stranger Things theme oeuvre.
Don't let the alleged whitewashing controversy keep you from seeing this in 3D on a massive screen. (Without going into spoilers – they do explain why Major looks like a white woman!) While some may find the simplicity of the story doesn't quite hold up the running time (and others may find it too similar to all the movies of the late 90's and beyond that the original inspired), Ghost In The Shell is absolutely worth your time.
Amber, Aaron, Matthew and I saw it in the theater and had a discussion in the car: