Belle – Movie Review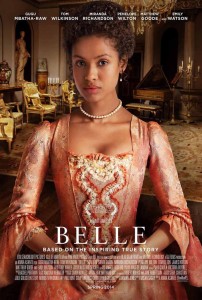 Belle – PG
Release Date: Fri 13 Jun 2014
Belle is a period drama based on the true events of a mixed-race girl raised by her great uncle, a supreme court judge and aristocrat in 18th-century England. The story deals with her odd situation of being "above" the servant (and slave) classes but below that of the rest of her white family. Belle's great uncle Lord Mansfield (Tom Wilkinson) also happens to be deciding a landmark case dealing with what appears to be an insurance fraud case where a slave ship crew drowned sick slaves for their insurance money rather than take a loss on them at sale.
Chances are pretty good that if you enjoy period dramas that this one will suit fairly well. There's enough historical basis to give the story gravity while still finding time to spent dealing with the business of getting young ladies suitors and/or husbands. The movie is short on humor and also fairly aloof from its own stakes. Our main character never seems to be in much danger. True, some sad and hateful things happen to her and around her but there never seemed to be any doubt that everything would work out in the end.
There are some good performances here, particularly from Tom Wilkinson and fans of the genre will enjoy this. I found it's predictable beats a little too bland to muster a recommendation beyond that.
Hannah, Juliette and I saw it in the theater had a discussion in the car: