Step Up All In – Movie Review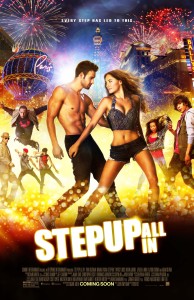 Step Up All In – PG-13
Release Date: Fri 08 Aug 2014
Step Up All In is a very safe, predictable movie about several groups of dancers competing for the opportunity to get a three-year contract and a reliable income source for a few years versus the grind of auditioning. It brings back some faces from the prior movies, going for something of an "all-star" lineup but ends up feeling like a bloated compilation that struggles to hold your attention for the nearly two-hour running time.
The first act takes place in Los Angeles where Sean (Ryan Guzman) is abandoned by his crew after they fail to land a gig after six months of auditioning and burning out. He quickly assembles a new one to create an audition tape to get on a reality dance competition TV show called Vortex. The entire rest of the film takes place at Caesar's Palace in Las Vegas, the location where Vortex is being filmed. This leads the majority of the film to feel blatantly shot on a soundstage, with editing taking away any illusion that these performances were perfectly executed start-to-finish and more like it came together in editing.
The compilation feel occurs throughout the movie with tons of dancers spread across four named groups. There's no discernible style difference between the groups – they all feel like they're playing with the same dozen styles and moves. From a story perspective, only the replacement group get any sort of development. The most story focus is on main couple Sean and Andie, but that story is so predictable and gutless that it only works as something (finally) different to see than some people dancing like robots. Again.
The characters range from bland and boring to laughably overacted or poorly acted. The cast here are certainly dancers first and actors a distant second. The TV presenter/diva Alexxa Brava (Isabella Miko) is cringe-inducing throughout, but particularly when she is introduced in a poorly executed promotional video for the show. Instead of looking like a slick TV ad it looks like a scene from any other point in the movie that just happens to play on a laptop instead of directly on the screen.
Step Up All In is probably going to be just fine for fans of the genre and may be slightly more enjoyable in 3D. The monotony of the same style of dance, focused on breakdancing, robot moves and synchronized choreography is worn out 20 minutes in, but takes the next 90 to rinse and repeat it anyway. No sequence stood out as particularly noteworthy and while nothing really offended me or stuck out as downright terrible, I don't feel like I got much for the investment of time I put into it.
Hannah, Aaron and I saw it in the theater had a discussion in the car: