Foxcatcher – Movie Review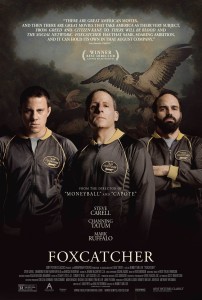 Foxcatcer – R
Release Date: Fri 14 Nov 2014
Foxcatcher is a bewitching drama filled with suspense and features stunning performances from its lead actors. The extremely strange true story of the wealthy John du Pont setting up a wrestling program at his home estate and recruiting brothers Mark and Dave Schultz oozes with menace and intrigue from his very first appearance. What does this man want, and what exactly have the Schultz brothers gotten themselves into.
Mark Schultz (Channing Tatum) is the character we mainly follow through the movie. Wishing to get out from under his older, more likable brother Dave's shadow he accepts the invitation from John du Pont (Steve Carrell) to begin a wrestling program at du Pont's home estate, a sprawling farm called Foxcatcher.
Tatum gives Mark a believable level of frustration. Mark doesn't say much, but you can always see what he is thinking. Steve Carrell, made nearly unrecognizable under prosthesis and queer, bemused expression is incredibly creepy as du Pont. Mark Ruffalo plays Dave, a very personable and affable family man who is a great wrestler and coach. He is probably the most normal of the three main characters, but he misses some of the warning signs as his focus is more divided. Where Mark has nothing but wrestling, Dave also has a family and is aware that Mark needs some space.
It's hard to recommend Foxcatcher based on just the story alone. It's a great, interesting true story that could be easily told in an hour of a television documentary. What is interesting about the film is that the story is there, slowly but certainly moving ahead with one tense scene after another. Every scene seems to end at a boiling point before giving the audience a few seconds of relief. New scenes often start in an empty or dark room before someone walks in or turns on a light. It makes the whole place seem lonely, massive and empty.
If you're dying to see what the awards buzz has been about, Foxcatcher is definitely worth a trip to the theater. Just be warned – although the suspense will keep you on the edge of your seat, a giant movie soda will be your enemy if you try and take on 139-minutes you won't want to look away from (let alone miss a scene!)
Amber, Aaron and I saw it in the theater and had a discussion in the car: