The November Man – Movie Review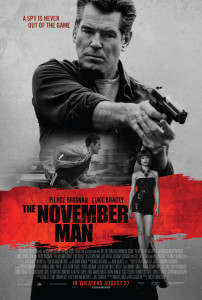 The November Man – R
Release Date: Wed 27 Aug 2014
The November Man is the story of ex-CIA man Devereaux (Pierce Brosnan) brought back into a dangerous situation between high-ranking CIA officials and a Russian presidential candidate. As an added wrinkle, one of the top men working against Devereaux is an old protege, Mason (Luke Bracey.) The movie is mainly set in Belgrade, Serbia which is an interesting new location for a spy thriller. Apart from the two male leads, it can be hard to keep track of the characters.
The plot is breathlessly trying to stun and shock at every turn, with Brosnan doing some decidedly non-heroic things mostly to make us wonder if his intentions are good. Likewise it seems his former protege will be a larger part of the story, but he disappears for a long stretch of the movie to introduce a female character complete with harrowing flashbacks to her teenage years of her family's demise and her abject abuse.
There's nothing that feels particularly smart and absolutely no humor is on display here. It makes the movie feel mean-spirited at times by neglecting a single opportunity for a one-liner, a clever trap and so forth. Instead, the movie pushes every ounce of violence it has to an uncomfortable degree and feels more like a bleak documentary than a fun spy thriller.
Matthew, Cal and I saw it in the theater had a discussion in the car: