The Wedding Ringer – Movie Review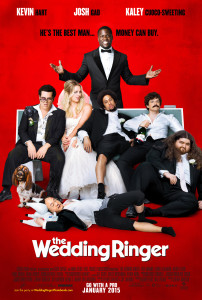 The Wedding Ringer – R
Release Date: Fri 16 Jan 2015
The Wedding Ringer is a comedy where soon-to-be-married Doug (Josh Gad) has to find a best man and seven groomsmen in 10 days. Luckily, there is a service provided by Jimmy (Kevin Hart): The Best Man, Inc. For a fee, Jimmy will be your best man and in whatever name and role you choose and help find those groomsmen.
While the plot may seem a bit familiar (and it is), the combination of the comedy and the heart make this one of the funniest R-rated comedies in years. Yes there's elements of Meet The Parents, There's Something About Mary and the "bromance," but it is all done with great grounding and conviction. You may be able to guess where the plot is going, but you'll be too entertained to care.
There's a multitude of comedic elements working together in the movie. Hart and Gad have great chemistry as a comic team with both of them working in a more understated role than usual. They're not two comic relief characters, they're the leads. Gad's physical comedy is fantastic, and it comes complete with "that moment" that only an R-rated comedy can provide. The supporting cast also get a great helping of character and jokes.
The most surprising thing was how much the heart and message of the movie resonated. The concept that men don't have enough friends and aren't engaged in the process of weddings as a fun rite of passage really worked. It's why the bromance side of the movie worked – we believe Doug and Jimmy want to be friends because we want friends like them.
There's a kind of magic in how the movie can swing its tone around from outrageous comedy to what is truly a positive message. In a lesser film, it would have felt corny or the comedy would have felt cruel or out of place. It was great to see it in a full theater of people who were laughing so consistently hard. If you're not offended by R-rated humor with a bit of nudity, I highly recommend seeing The Wedding Ringer in the theater.
Hannah, Aaron, Amber and I saw it in the theater and had a discussion in the car: