Paddington – Movie Review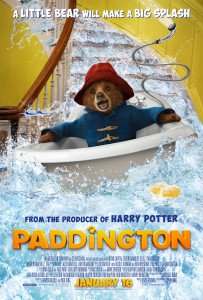 Paddington – PG
Release Date: Fri 16 Jan 2015
Paddington is a live-action adaptation of the popular children's book character with some elements (including the title character) added in via computer generated 3D animation. After a trailer that seemed to focus on the one unpleasant gross-out moment in the film, it's a welcome relief to find the the movie is a good family film if a little too conventional to be mandatory viewing.
The performances and effects are very good, including some excellent visual touches. A painted tree occasionally becomes animated. A doll house becomes a transition into the Brown's house. Ben Whishaw's voice works well with Paddington who isn't quite as convincing as Rocket Racoon at being a CG creature in a live-action movie, but still is very good. Hugh Bonneville from Downton Abbey gets some good laughs as Mr. Brown. Sally Hawkins' Mrs. Brown is (somewhat strangely) the most fascinated with Paddington. I say strange because she has a childlike fascination with him that the actual children in the movie don't seem to share. This works as it matches her character, and the children have their own separate arcs that are tangentially connected to Paddington's own.
The scenes of Paddington unwittingly causing chaos and destruction started to become tiresome for me around the midway point, when he becomes trapped in tape and unknowingly wards off a capture attempt by the film's villain, Millicent (Nicole Kidman.) While Kidman is fine in a role that doesn't ask much of her, the incredibly cliched villain trying to trap the animal seems like a phoned-in way to make the story feel like a movie. It works for what it is, it's just not as creative as it could have been.
All in all, Paddington is a great children's movie and a very comfortable movie for adults to watch as well. It's worth seeing once, especially if you're a fan of the character.
Amber, Aaron and I saw it in the theater and had a discussion in the car: