Magic Mike XXL – Movie Review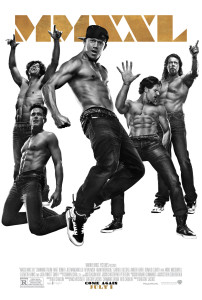 Magic Mike XXL – R
Release Date: Wed 01 Jul 2015
Magic Mike XXL is probably the movie people who never saw the original Magic Mike expected it would be. Lots of dance numbers with half-naked men, a sense of fun and friendship, and a competition-themed storyline that builds up to an epic final performance. The first movie was not that way, however. The criminal element that included drug-running and the broiling tension of Matthew McCounaughey's character, the veteran dancer and leader Dallas left an air of uneasiness all through the first film right along with the yellow filter used on the picture.
If you were disappointed by Magic Mike's relatively brief and infrequent dance numbers, XXL sets things right. If anything there are a few sequences (particularly where we meet Jada Pinkett Smith's Rome) that everything seems to stop for an extra long series of dance routines. These seem intended to give us some character development for a few new faces, but they take a bit longer than seems necessary.
Joe Manganiello, reprising his role of Big Dick Richie manages to steal the show. This is particularly true in a sequence with a cameo from Andie MacDowell and his performance at the end of the movie. It certainly got the biggest reaction at our screening. The rest of the characters are also good. It isn't as though Channing Tatum isn't as good in this movie as before, but it's much more of an ensemble this time around which makes it more entertaining.
There's plenty of eye candy for those looking for ripped, dancing men. For everyone else, the humor and fun of the various relationships make the movie fun enough to make the two hours and change fly by fast.
Hannah, Aaron, Amber and I saw it in the theater and had a discussion in the car: