Pan – Movie Review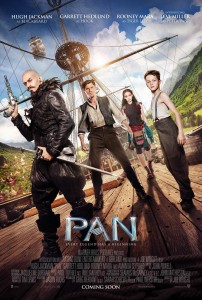 Pan – PG
Release Date: Fri 09 Oct 2015
Pan is a live-action fantasy the imagines a sort of prequel to J.M. Barrie's Peter Pan. We follow Peter on his initial trip to Neverland from World War II blitzkrieg-era England and meet familiar characters along the way.
While Pan is an impressive compilation of visual effects and art direction, it's surprisingly lackluster; managing to not take its own premise far enough while taking other, silly decisions too far. It is rare when a movie manages to implode itself on a single decision, but Pan does it. Just as we are entering the magical world of Neverland for the first time and meeting Blackbeard's (Hugh Jackman) massive crew of pirates and miners, they begin chanting the lyrics to "Smells Like Teen Spirit" by Nirvana. Blackbeard walks out and sings along.
This instantly and irrevocably says to the audience "you're watching a movie, remember?" The whole illusion disappears – for what? An in-joke? Minutes later it happens again with The Ramones' Blitzkrieg Bop, again with Blackbeard singing along. Now that you're thoroughly removed from the events, a series of repetitive scenes pass. They look like they were fun to art direct, but don't push the plot. None of the characters really has any arc – including the ones that are introduced as different from the book. For example, it's heavily hinted that Captain Hook will eventually become Peter's enemy. Just not in this movie.
Bland, predictable and anachronistic – Pan is a bad time with beloved characters and brings nothing worth exploring to the characters. It feels stupid and contagious.
Aaron, Cal and I saw it in the theater and had a discussion in the car: