Nocturnal Animals – Movie Review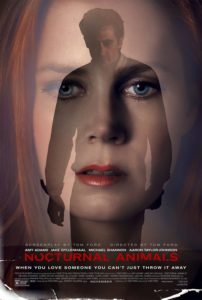 Nocturnal Animals – R
Release Date: Fri 09 Dec 2016
Tom Ford directs this dramatic thriller starring Amy Adams and Jake Gyllenhaal. Susan (Adams) receives a manuscript in the mail from her ex-husband Edward (Gyllenhaal.) She reads it and we see that story play out along with reflections back to their relationship. The manuscript is a story within the movie that shares Gyllenhaal as Tony Hastings, its protagonist.
This movie wastes no time setting a dangerous, "anything can happen" tone with it's opening credits. It's a movie that demands your attention and rewards careful viewing. A deeply psychological film, the uncomfortable feeling that permeates is based on the violence we expect and inject always being worse than what's on display.
Amy Adams and Jake Gyllenhaal disappear into these roles. Susan is about as far removed from Adams' Ashley in Junebug. To say too much about Gyllenhaal's dual roles would spoil some of the plot, but we have seen him pull off the doppelganger effect before in Enemy. Here, he's emotionally accessible in both gentle and emotionally raw scenes. Michael Shannon and Aaron Taylor-Johnson are also great in their respective roles. It may be Taylor-Johnson's most well defined role to date.
Nocturnal Animals is a serious movie for an adult audience, but it is an absolute treasure for that category and well worth seeing. Check out our spoiler discussion video after you've seen it for yourself to hear more about our thoughts.
Nathan, Cal and I saw it in the theater and had a discussion in the car: