Thor: Ragnarok – Movie Review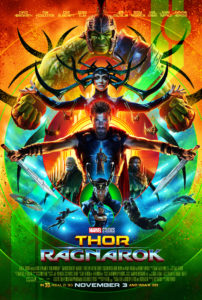 Thor: Ragnarok – PG-13
Release Date: Fri 03 Nov 2017
This third standalone Thor movie from Marvel Studios is directed by Taika Waititi (What We Do In The Shadows). His signature comedy comes in fits and starts from the movie, most notably at the beginning of the film where Thor fills in a skeleton (a clever audience surrogate) on what's happening as the movie starts partway into the action.
Chris Hemsworth, Tom Hiddleston and Mark Ruffalo all feel great in their roles after a half dozen or so films. Cate Blanchett plays Hella, the goddess of death and central villain, though Jeff Goldblum's character and a CG demon character are also antagonists. Waititi himself voices a CG rock man named Korg, the most consistent and effective comic relief in the film.
The Thor movies have gotten better in each installment, and Ragnarok smartly leans in a comedy direction that freshens up Thor and Loki and brings it closer to James Gunn's Guardians of the Galaxy movies. (Don't expect it to be as funny though.)
I am a fan of Waititi's work and I love that Marvel gave him this opportunity. Ragnarok may have trouble standing out against the other Marvel films released in the past year, but it's well worth a spin. We saw it in IMAX and recommend it.
Matthew, Aaron, Cal and I saw it in the theater and had a discussion in the car: