Fifty Shades Freed – Movie Review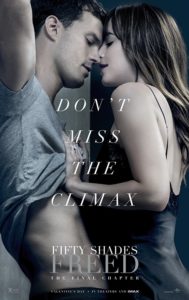 Fifty Shades Freed – R
Release Date: Fri 9 February 2018
The third and final installment of the Fifty Shades film adaptations has finally arrived. The first film was a long three years ago with a momentum-breaking wait for the second installment last year.
Fifty Shades of Grey, Sam Taylor Johnson's 2015 film introduced us to the characters and the world of the books, but due to creative differences with the book's author (who had a great deal of creative control over the adaptations) both the director and screenwriter was replaced. The second and third films were shot simultaneously with James Foley directing and Niall Leonard (husband of the author) taking over as screenwriter.
Due to the adherence to the events of each book, the second volume seems the most devoid of answers. In point of fact, the second movie mostly serves to set up the conflicts resolved in the third film rather than stand on its own terms. (It also undercuts the severity of how the first installment brings a violent end to the relationship, only for it to be walked back in very little screen time.
Here, too, are something of a heightened greatest-hits style collection. Christian and Ana get married during the opening credits. We then spend quite a bit of time bouncing back and forth between their spoiled, super-rich lifestyle as they honeymoon seemingly everywhere on earth stopping only for the film series' trademark limply kinky sex scenes. Dornan's no-nudity clause is still in full effect, so get ready for a lot of scenes focused on Dakota Johnson's breasts and several instances of the "SHOjob," a term for a softcore sex act found on late-night cable channels that involves making out with each other's navels.
As with the rest of the series, even the greatest threats to the couple's happiness seem to be no more than a single scene of apology or confrontation away. Paul Hyde, strongly foreshadowed as a threat in the previous movie is at least more interesting than yet another reason for the couple to be pouting at one another.
And for that, I would say that Fifty Shades Freed is probably the best of the three films. It's competent, but not good or noteworthy. The filmmaking is passable, the lack of chemistry between the leads is better hidden and it feels final. If you've made it this far and want closure, it's there. But if you've managed to avoid this series up to this point there's nothing about Freed to recommend to a newcomer.
Amber, Aaron and I saw it in the theater and had a discussion in the car: